Show you care
Every year we care for, rehabilitate and re home hundreds of dogs, cats and small animals.
Our Centre has space for 18 dogs, 19 cats, 6 small rodents, 6 rabbits, 6 guinea pigs, 2 ferrets, 2 captive
birds and 2 species of livestock. Each space will be home to many animals throughout the year. They will all require fresh food, safe dry accommodation, toys, warmth, veterinary care and of course love.
You can help by sponsoring a space, thus making abig difference in helping to feed and accommode animals. Sponsorship will help the branch cover the cost of caring for the many unwanted or neglected animals that arrive at our Centre.
To become a sponsor today download and return the form  to us or speak to our team by emailing:  fundraising@rspcahalifaxhuddersfieldbradford.org.uk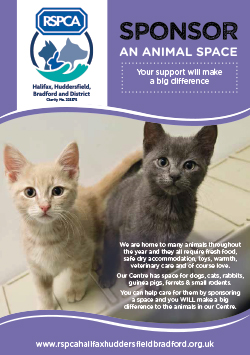 Who is the scheme for?
We are looking for individuals, families, groups, clubs and businesses to sponsor our dog, cat and small animal spaces. You could also apply for sponsorship as a gift for a friend or family member.
How does sponsorship work?
Our centre has its own website where all the animals that are looking for new homes can be viewed. Each animal has its own space and we are hoping that you will sponsor one of these spaces. You can choose an animal space and personalise it by giving the space a name. Your name will also be displayed in our centre. Simply by clicki
ng onto our website you will then be able to follow the progress of the many animals that may reside there throughout the year. The information is updated hourly so you will be able to see clearly when the animals enter your space, are reserved and adopted.
What does it cost?
Sponsorship is available on a yearly or monthly basis
Dog £300/year or £30/month
Cat £200/year or £20/month
Small animal £100/year or £10/month
How is your kindness rewarded?
Display your name or words of your choice on the website
Send you a special sponsorship certificate
Display your name on the website next to the animal that is in your sponsored pen. This will ensure that you can keep a check of all the animals that pass in and out of the pen that you sponsor.
Receive branch newsletters
Receive a quarterly letter about the guests who have enjoyed the hospitality of your space.
Have an annual VIP visit to the Centre
Receive a car sticker/s
    Our branch is independently run and is self financing. It is entirely dependent on the      goodwill and generosity of the local community.