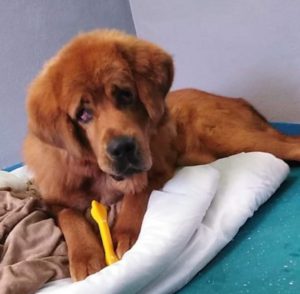 Anya is an 18 month old Tibetan Mastiff, who came to us as part of a cruelty investigation. Sadly, Anya's original owner did not seek medical attention for her prolapsed vagina, which was causing her extreme pain and discomfort. She was also very underweight, weighing just 36kg on arrival at our centre – Anya's breed (females) can reach up to 54KG.
Our centre team ensured Anya received the surgery she needed for her prolapse – but sadly this did not work and unfortunately she had to undergo treatment for a second time.
Poor Anya really has had a tough start to life and to make matters worse, we noticed that her legs were stiff and she would often struggle to get out of her bed. After more vet visits and x-rays, she has now been diagnosed with severe hip dysplasia.
This is of course devastating news, particularly as Anya is so young. The vet told us that a double hip replacement could be an option, but due to her large size this may not work and would also be extremely costly. The second option is to monitor Anya's pain and keep her comfortable with pain killers – we also need to ensure that her weight does not go to the top end, as this would put further strain on her legs.
Here at the RSPCA Halifax, Huddersfield & Bradford, we are proud to have created something called the EARS scheme. This was developed to help elderly animals find loving homes, whilst making the care and adoption of an older pet affordable for potential adopters. It also covers animals who may have a shorter life expectancy. We therefore decided that this scheme would be Anya's best option, enabling her to find a loving home, whilst not being too costly for potential adopters, as long as she is comfortable and can live a relatively normal and happy life.
Anya's current surgery costs for her general anaesthetic (£109), prolapse surgeries (£200) and ongoing medication (£25 per month) comes to a total of £33 but Anya also needs regular antacids, so that she can tolerate her ongoing pain relief – any donations towards Anya's current vet treatment and ongoing medication would mean so much to us, we hope to find Anya a home as soon as possible but she may be with us for a little while until we find the ideal home, any extra donations raised will help us with her ongoing care.
This beautiful girl is currently enjoying lots of love and attention from our Animal Centre Team but we would love nothing more to find her a permanent forever home. If you would like to help us recover Anya's surgery costs, please donate here https://www.rspcahalifaxhuddersfieldbradford.org.uk/make-a-donation or if you would like make a monthly donation to help us care for the many current and future animals who'll arrive in our centre, visit: https://www.rspcahalifaxhuddersfieldbradford.org.uk/make-a-monthly-donation
If you're interested in adopting Anya or would like to find out more about her, visit: www.rspcahalifaxhuddersfieldbradford.org.uk and head over to our animals for adoption section – thank you so much to everyone who has donated to help Anya and for your incredible support.