Please Note: The Clean Neighbourhoods and Environment Act 2005, places full responsibility with your local authority for dealing with stray dogs and associated stray dog services.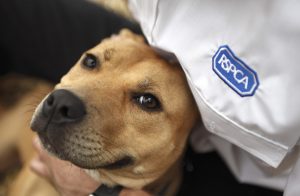 Calderdale and Kirklees Council have full responsibility for the catching and safe-keeping of stray dogs throughout the borough.
The RSPCA and other animal welfare charities cannot pick up stray dogs or accept them from people who find them and will direct those people to their local authority. In fact we can only deal with a stray dog in an absolute emergency, i.e. if the dog is in imminent danger of death or severe suffering and the authority is unable to attend.
We will be happy to take a report and scan the dog but are not allowed to take it into our kennels.
If a dog is found during normal working hours, you need to contact the Dog Warden Service. A dog warden will then arrange with you to come and collect the dog.
Found an animal out of hours?
If a dog is found outside normal working hours you have the following options:
You can keep the dog until the next working day and then as above, contact the Dog Warden section and arrange for the dog to be collected.
Contact Cliffe Kennels at Hoylandswaine, Sheffield 07584483397.
This is the contact number for out-of-hours drop off points. It is your responsibility to contact them and arrange to drop the dog off. They will not come out and collect.
The Council does not operate a stray dog collection service outside normal office hours. If you find a stray dog roaming the streets and restrain the dog you can take it to the Council's kennels above. You must also

report it to the Council's out of hour's emergency numbers above
It is an offence not to comply with this requirement
If you wish to keep the dog, you must still inform the dog warden of that fact; if you then decide to keep that dog, you must keep it for at least one month before it legally becomes your property. A notice will be served informing you of that.