Meet Miss Pickles, this lovable 8-year-old British Bull Dog arrived in our care after her original owner could sadly no longer cope.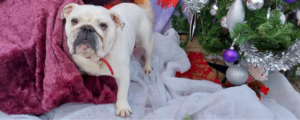 Our Animal Care Team soon noticed that Miss Pickles was suffering from grade 3 Brachycephalic obstructive airway syndrome (BOAS) – a term used to describe a group of conditions we see in animals with shortened skulls (brachycephalic) which compromises their ability to breathe normally.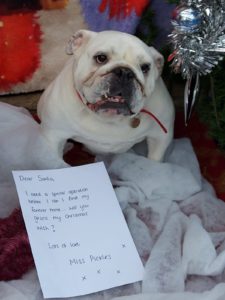 Miss Pickles urgently needs this surgery before she can safely be rehomed. However, the operation will cost our branch over £2,500 – a big strain on our funds for any time of year, but even more so after a year of lockdowns and uncertainty.
Please could you help us raise the funds needed to cover her surgery costs?
Donate here: https://www.justgiving.com/campaign/misspicklesxmaswish
or visit our Christmas Wish Appeal page here to view all the animals you can grant a wish for
Without this operation, Miss Pickles will struggle to breathe effectively and may not be able to find a new home.
As part of our Christmas Wish Appeal we are asking our supporters to grant a wish for an animal in our care, so why not grant Miss Pickles wish for a safe and successful operation so she can find a forever home in 2022.
We really want to grant this lovely lady's Christmas Wish and would appreciate any donation you can offer. Thank you