We would like to say a huge thank you to everyone who has supported us by recycling their Tassimo and L'OR coffee pods through Terracycle to help us raise funds for our Animal Centre, however, this is now coming to an end and any collected recyclables will need to be dropped off to us by December 10th –  please read on to find out why this is now coming to an end.
Since its launch in 2009, The Tassimo® & L'OR® Recycling Programme has had an incredibly positive impact. This first-of-its-kind programme helped raise over £600,000 for charity and recycle more than 60 million pieces of Tassimo® waste and L'OR® capsules.
Our brand partner, JDE Coffee, has recently launched a new cross-industry recycling programme – Podback. This means JDE Coffee will no longer offer Tassimo® T DISCS & L'OR® aluminium capsule recycling with us but with Podback, a solution where both waste streams can be recycled. So we are sorry to inform you that the TerraCycle recycling programme will now be closing.
It is also asked that any final Tassimo® T DISCs, outer packaging, L'OR® capsules, Kenco Eco Refill packs, and coffee jar lids are dropped off by the 10th December 2021.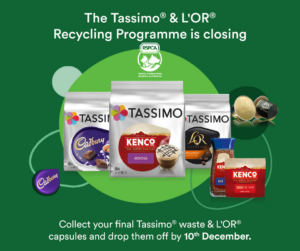 Thank you so much for your ongoing support.